This article lists issues, errors and bugs found in the current version of Terra Battle.
Do not add abusable bugs, glitches, or hacks to this article. These should be reported directly to Mistwalker either through the support form found in-game through [Options] > [Support]; or through the "Contact" link found at the bottom of the official Terra Battle website.
Technical Issues
Network Error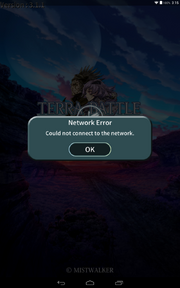 Problem:
"Network Error" after loading from the title screen.
Stuck loading on the Mistwalker logo screen.
Details:
The game is trying to download files, but the network connection is slow or unstable.
Solution:
Press "OK" when the error appears.
Press the Home button to minimize Terra Battle.
Wait for the download to finish.

If you can monitor your WiFi or data activity, wait for the monitor to show that no data is being transmitted.

Switch back to Terra Battle.
If you still receive the error, try waiting longer or finding a more stable network connection.
Hosting Co-op
Problem:
Cannot host a co-op game.

Attempting to host a co-op room results in an error.
Attempting to host a co-op room brings you back to the previous screen.
Details:
[Multiplayer Servers] option is set to "Auto".
Attempting to host a co-op room shows a room number starting with a "4".
Solution:
Go to [Options] > [Multiplayer Servers].
Select any server other than "Auto".
Close and restart Terra Battle.
Visual Issues
Upgrade Companions
Problem:
Companions that are received at level 30 require a large amount of EXP to level up.
Details:
This is only a visual bug. The companion only requires the amount needed to go from level 30 to 31.

The display shows the EXP required to level the companion from 1 to 30, in addition to the EXP required for the next level.
Solution:
Fuse any companion to the bugged companion to see the correct EXP requirement.
Exit the upgrade menu and check the companion again.